Technological Process Design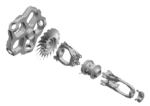 Business Name:
Technological Process Design
Short Business Description:
CAD CAM engineering workforce backup service: NC program, Tooling and Fixture design.
Long Business Description:
One of the most important components of success in the modern world is the speed of mastering new processes and technologies.
Our specialists constantly search for advanced technologies in the field of metalwork, conduct experiments with the tools and study new properties of equipment and we are ready and willing to share our experience.
Besides, close contacts with the colleagues from our clients' companies ensure a continuous process of sharing experience.