Payments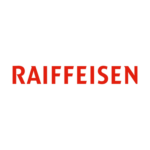 Address:
Raiffeisen Schweiz
Raiffeisenplatz
St. Gallen
9001
Long Business Description:
Raiffeisen Switzerland is the third largest banking group in Switzerland.
Raiffeisen Switzerland has a cooperatively structured group is one of Switzerland's leading retail banks. Today, Raiffeisen has 3.7 million Swiss citizens as clients. Of these, 1.8 million are cooperative members of their Raiffeisen Bank.
They appreciate the crucial advantages of Raiffeisen: customer focus, support, reliability and the exclusive benefits for cooperative members. The customer focus is also one of the main reasons for the success of Raiffeisen.
Represented in over 1000 locations in Switzerland, Raiffeisen has made the most extensive branch network. It is not surprising that the Raiffeisen employees know their customers personally. Just this local anchoring is to characterize the Raiffeisen with its more than 100 years, especially.